OUR HISTORY
A coffee origins journey that dates back
to more than 80 years ago.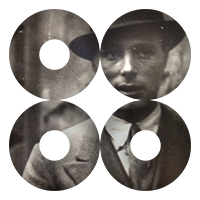 1939
Dinicaffè was founded in Florence thanks to an idea of Alberto Dini who decided to transform his great passion for coffee into something bigger, after his ten years' experience concerning colonial products. He created his coffee roastery in the historic centre of Florence to exalt both craftsmanship and the quality products without forgetting about the strong relationship with the territory and the city.
1966
Dinicaffè activity continues and grows over the years by producing high quality coffee that became popular thanks to its taste and aroma. In 1966 Alberto Dini transformed an old furnace located in Via Bastioni into the the new and current Dinicaffè location in Florence, after a terrible flood that completely destroyed both the city and the old location.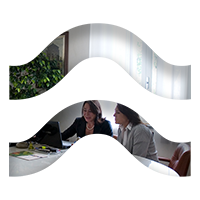 1980 - 1996
Dinicaffè pathway to excellence continued through the '80s when Alberto's daughters, Elisabetta and Laura took the lead of the company. In 1996 they founded CSC, a Certified Specialty Coffee Association together with some Italian coffee roasters: an organization created to protect the quality of coffee and its full traceability from the plantation into the cup.
2010 - up to now
83 years after its foundation, Dinicaffè has never changed its nature, its city and its values, which since 2010 have been carried on by Elisabetta's daughters, Serena and Benedetta. The two sisters, guided by a passion for coffee that passed down through three generations, day after day produce a superior quality coffee relying on their great experience and the best machinery, such as the Brambati roaster, purchased in 2021.
OUR COMPANY TODAY
Benedetta and Serena Nobili:
Dinicaffè present and future.
Serena
She was born in Florence in 1981 and she graduated at IED Milan European Institute of Design. She joined the family company in 2010 in order to manage and define Dinicaffè image and communication.
She started learning "tips and tricks" and she became more and more passionate about the world of coffee. Together with her sister Benedetta, she has travelled and visited the Coffee Bean Belt in order to discover the places and the companies where coffee has its own origins: Honduras, India, Brazil, Guatemala, Costa Rica and Ethiopia.
Back in Italy, from 2018, she takes care of Dinicaffè's product, sales and marketing. In 2019 she received "The Arabica Q-grader" title (coffee taster), a special certification in order to better know and understand every single aspect of coffee, from the plantation into the cup.
Benedetta
She was born in 1984 and she graduated in Management Engineering at University of Bologna. After having a short experience at Cafè Saula, a coffee roastery in Barcelona, she joined Dinicaffè company in 2010 supporting her aunt, Laura Dini.
In 2011 she left the company in order to explore strategic themes linked to the coffee business and she pursued a Master in Ho.Re.Ca Trade Management at University of Parma.
When she joined the company again in 2012, she started taking some positions linked to her background, such as finance, management control, production and logistics.
In 2018 her aunt unfortunately died and she began to manage her business together with her sister Serena enhancing the values of excellence and quality that have characterized Dinicaffè during its 80-year history.
SERENA, ELISABETTA AND BENEDETTA
OUR COMPANY IN NUMBERS
OUR ACHIEVEMENTS
100 MILA
kg of coffee sold per year
300
customers currently served
OUR AMBITION
BEING A REFERENCE POINT
FOR THE COFFEE CULTURE
Tasting Dinicaffè represents a unique moment: an aromatic, tasty and intense coffee produced thanks to a careful selection of beans, a research for the best blends and a strict processing method.